The Rev'd Martin Flowerdew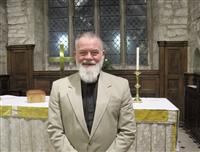 Rev'd Martin Flowerdew was installed and inducted as vicar of Repton, Foremarke and Newton Solney on 26th April 2012.
Brought up on a farm in Suffolk, Martin worked in a garage, shops and factories before taking a degree. After qualifying he taught for several years - in a boarding school and later in a comprehensive in Bethnal Green - before becoming assistant director of the YMCA in Cambridge.
He has experience with several different kinds of church, including Southern Baptist in the USA, and believes strongly in ecumenical links between neighbouring churches.
Following his ordination in 1991, Martin served in parishes varying from rural Norfolk to Bethnal Green. Before coming to Repton, he was from June 2009 to April 2012 vicar of St Hildeburgh's Church, Hoylake, having previously spent eight years as vicar of the Essex seaside parish of St Osyth.
For contact information click here.