The Repton Spoon
To mark the 1350th anniversary of the arrival of Christianity in Repton, then the capital of Mercia, in 653 AD, a specially designed spoon was commissioned. The design is inspired by the distinctive 'barley twist' pillars of the Saxon Crypt, believed to be copies of those in the original St Peter's in Rome. The spoon, in silver-plated pewter, is 3¾" (9½ cm) long and costs £35.&nbsp A small number were produced in solid silver but are no longer available. All the profits from the sale of the spoons go towards the upkeep of St Wystan's Church.
The spoon will appeal to anyone who has connections with Repton - as a wedding, Christening or anniversary present, or simply as a personal possession to treasure.
To express an interest or (if you live locally) to see a spoon, please contact Frances Wimbush.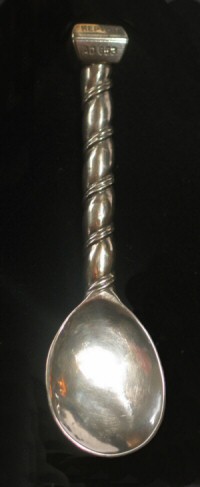 The Anglo-Saxon crypt of St Wystan's Church dates from the 8th Century and is one of the oldest intact buildings in England. It was begun by King Aethelbald (died AD 757) as a mausoleum for the Mercian royal family. The crypt was later embellished by King Wiglaf (died c. AD 839), who inserted the vaulted roof supported by the four 'barley sugar' shaped columns. The bones of his grandson, Prince Wystan, (murdered in AD 849) were later interred there. When miracles were ascribed to Wystan he was sanctified and his tomb became the objective of very many pilgrimages to Repton.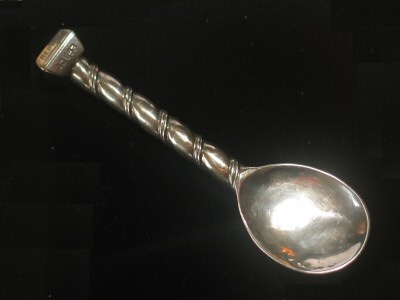 Christianity had been brought to the Midlands 200 years earlier when, in AD 653, four priests were sent from Northumbria to Repton for the wedding of the son of the pagan King Penda of Mercia to the daughter of the Christian King Oswy of Northumbria. Once the royal family had been converted, the people followed and Christianity spread throughout the Mercian kingdom of central England from the Humber to the Severn.